Z-Squad
General Information
Type
Korean Cartoon
Created by
Enemes
Years on Air
2006-2007
Seasons
1
Episodes
26

Chinese Title: 美少女突击队
French Title: Z-Squad
Italian Title: Z-Girls
Hungarian Title: Z különítmeny
Korean Title: 크리스탈요정 지스쿼드
Portuguese Title: Z-Squad
Romanian Title: Echipa Z
Russian Title: Ангелы Z: Магия кристалла
Turkish Title: Z-Timi
Z-Squad is a South Korean-Canadian computer animated show that premiered in December 4, 2006.
Plot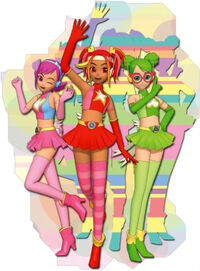 Z-Squad chronicles the adventure of Chaney, Haemi, and Jeanie - school girls turned superheroes and their newfound, cuddly alien counterparts, Zoots, as they search for 144 enchanted crystals in order to save the Earth and Z-Nation from a cast of bumbling baddies.
The three were known as the most athletic girls in the school, defeating all the boys in everything they do. For example, in the first episode the audience is told that Haemi beat the boys at archery, Chaney defeated the boys in Tennis and Jeanie defeated the boys in track.
Whilst the three are the most athletic girls in the school their title becomes threatened by the three new boys more likely known as the drop dead gorgeous three or the DDG3 for short. They are known to be the most athletic boys as well as being cute. They come across arrogant and cheaters when facing the girls.
TV Preview
Characters
DVD Preview
DVD Limited Edition Preview
Community content is available under
CC-BY-SA
unless otherwise noted.