Wakaokami wa Shougakusei!
General Information
Type
Anime
Years on Air
2018
Episodes
24
Movies
1
Japanese Title: 映画 若おかみは小学生!
Japanese Title: The Young Innkeeper Is a Grade Schooler!
Plot
12-year-old Oriko Seki, who lost her parents in a car accident, ended up living in her grandmother's Onsen Ryokan "Haru no Ya." With the ghost "Uribou" cohabitating with her and all the other odds, she ended up training to be a young female innkeeper. At first, she didn't like the training, but gradually felt her admiration for her title and began to train seriously. Thus, the growth of the young warrior Oriko begins.
Movie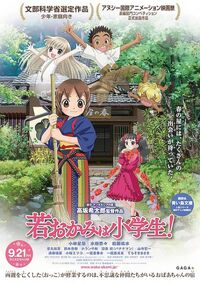 Airdate: September 21, 2018
After losing her parents in a car accident, Okko goes to live in the countryside with her grandmother, who runs a traditional Japanese inn built on top of an ancient spring said to have healing waters. While she goes about her chores and prepares to become the inn's next caretaker, Okko discovers there are ghosts who live there that only she can see – not scary ghosts, but playful child ghosts who keep her company and help her feel less lonely. A sign outside says the spring welcomes all and will reject none, and this is soon put to the test as a string of new guests challenge Okko's ability to be a gracious host. But ultimately Okko discovers that dedicating herself to the happiness of others becomes the key to taking care of herself.
Community content is available under
CC-BY-SA
unless otherwise noted.