Japanese Title: 退魔巫女戦騎トリプルランサー
English Title: Idol Squadron Triple Lancer
Taima Miko-sen-ki Triple Lancer
Taima Miko-sen-ki Triple Lancer
General Information
Type
Japanese Live Action
Created by
Toru Kikkawa
Years on Air
2007
Movies
2
First Movie: Taima Miko-sen-ki Triple Lancer - The Lancer Suit Destroyed
Airdate: May 25, 2007
The Triple Lancers, Himika Oda, Fuyuno Toyotomi and Mikoto Tokugawa, having known that the evil organization, Onyou Gundan, was watching for a chance to get the special fuel under development, stood guard for it. However, when Mikoto left her position for a while, the special fuel was stolen by the Onyou Gundan. Himika's strenghthened suit of Red Lancer was destroyed by the attack of the monster of the Gundan, Nirin Majin, with using the fuel, and Himika was critically hurt.Mikoto, feeling responsible for her, changed into Yellow Lancer and challenged Nirin Majin by herself..
Second Movie: Taima Miko-sen-ki Triple Lancer - Escape from Dungeon of Time
Airdate: June 08, 2007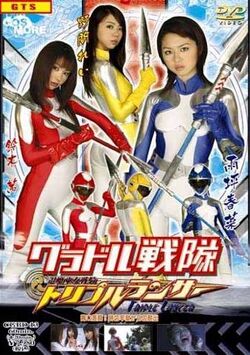 Triple Lancers are bitterly defeated by Fiend of Time who can manipulate time as he wishes.... Fuyuno Toyotomi, proudest member of the Lancers, wouldn't stand it, fights back the fiend alone, trying to find the weak point of their enemy. However, Fiend of Time stops time while Fuyuno's transformation is still going on. Fuyuno is forced to fight a one-on-one battle against all-too-powerful Fiend only with the inner suit in the strange space where time stops forever. Fuyuno fights bravely, but she is no match for Fiend of Time, who ruthlessly beats her up. Battered Fuyuno can no longer stand on her feet and thinks it's all over until she remembers the pledge she and her partners Himika Oda and Mikoto Tokugawa made together and she summons the strength to fight back, once and for all, and put an end to everything! But is there any way to defeat Fiend of Time? And can she really find it?!...
Taima Miko-sen-ki Triple Lancer F
Taima Miko-sen-ki Triple Lancer F
General Information
Type
Japanese Live Action
Created by
Toru Kikkawa
Years on Air
2009
Movies
2
First Movie: Taima Miko-sen-ki Triple Lancer F Vol.1
Airdate: May 22, 2009
The battle between the Triple Lancers, an organ of justice created by mankind, and the Onyoh Corps, the group of devils intending to exterminate mankind, is about to come to an end. Clad in the improved, powered-up reinforced suit, the Triple Lancers have downed the monsters one after another just about to score victory. But, Megumi Takasugi, as Blue Lancer, who has had her mother killed by the Onyoh Corps while she was a child, has long been intending to find out the culprit all by herself to revenge for her mother.. Mika Sakamoto, as the leader Red Lancer, advises against Megumi's unilateral action, which forges an enmity between the two. Yellow Lancer, Yuki Katsura, tries to patch up. But, Udai Majin Kai and Sadai Majin Zan, both cadres of the Onyoh Corps, come into play. Lancers in the Lancer suits are supposed to be invincible. It is none other than Sadai Majin Zan who killed Megumi's mother. Megumi, Blue Lancer, gets carried away and charges towards Zan, breaking loose the team work of the Triple Lancers. The three get cornered by Zan and Kai, while Megumi, Blue Lancer, challenges them alone, falling into the trap of Zan and Kai... Blue Lancer is tortured by the two monsters. The ferocious feather Ninja stars penetrate Megumi's soft skin through the now disfunctioned reinforced suit. Crying in agony, Megumi faces the brutal tortures staged playfully by Zan and Kai. Megumi Takasugi, Blue Lancer, smashed both in body and mind, is led to public execution. Now the worst fate befalls our heroine Blue Lancer in a bad ending.
Second Movie: Taima Miko-sen-ki Triple Lancer F Vol.2
Airdate: June 12, 2009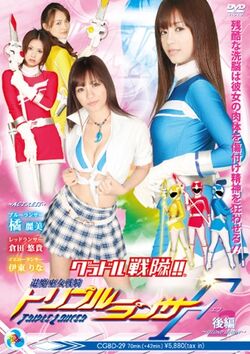 In order to rescue the Blue-Lancer who is about to be executed in public, the Yellow-Lancer damages herself with the will of self-sacrifice. Fury of the Blue-Lancer reaches the peak and chases down the Grudge-Ominousness Army's monsters named the Slash and the Destruction. In the midst of the fight, she hears the news about her mother who was supposed to be killed. A couple days later, in front of the Blue-Lancer Megumi Takasugi, her mother who was supposed to be dead really appears. However, Megumi's mother is actually the grand head of the Grudge-Ominousness Army named Youra. Megumi is so emotionally trembled, and she just manages to transform herself and fights against her mother; but each time Megumi sees her mother's face, she hesitates to fight against her and is driven into a corner... Actually that is the Grudge-Ominousness Army's last trap that drives the Triple-Lancer into total annihilation. The Blue-Lancer Megumi is captured and tortured, and her body with a special tempered suit is ripped to pieces with shape nails of the Slash and Megumi is damaged her flesh body. During the hard torture, the Blue-lancer Megumi is driven crazy with a sweat gentle talk of Youra exactly like her mother and is brainwashed by Youra. As the result, in front of the Red-Lancer and the Yellow-Lancer, the Blue-Lancer Megumi appears as a warrior of the Grudge-Ominousness Army... The Red-Lancer is beaten by the Slash and the Destruction, and the Yellow-Lancer is fallen into the dark side of the world and is totally beaten by brainwashed Megumi. The Triple-Lancer is driven into an imminent danger, and the invasion of the earth by the Grudge-Ominousness Army is surely about to come true... Well, how will be the destiny of the Triple-Lancer come out...!?
Taima Miko-sen-ki Triple Lancer (2012)
Taima Miko-sen-ki Triple Lancer
General Information
Type
Japanese Live Action
Created by
Toru Kikkawa
Years on Air
2012
Movies
1
Airdate: April 13, 2012
Plot
Two Lancer fighters Blue Lancer / Kasumi Fuma and Yellow Lancer / Narumi Hattori are forced to fight Onmyo (yin-yang) demon monsters trying to dominate the world of humans. Their fight is tough as they are still incompletely transformed heroines. For Triple Lancer to be perfect, they need three Lancer fighters, but Kasumi and Narumi have not found the third Lancer yet.... A cool fighter Blue Lancer is bewildered by the enemy's sexual harassment-like attacks while Yellow Lancer barely defeats enemies using her trademark seduction tactics. But the monsters get stronger every day, and Blue Lancer and Yellow Lancer are driven into a corner when Pink Lancer / Hikaru Momochi finally arrives. However, due to her less-than-impressive fighting ability Pink only get in Blue and Yellow's way. Obviously the three girls are not ready as a team for their match against the monsters' high-rank officer Evil Princess attacking them. Blue and Yellow are captured by Evil Princess, who subjects them to electric, evil-flame and energy-sucking tortures. The two girls moan in agony, because of the pains they have never experienced before. The only hope left is Pink Lancer, who, still immature as a fighter, employs seduction tactics using her beauty, and some of the combatants are charmed into betraying their organization!? But Evil Princess is a female, which means her tactics are of no use. Will Blue, Yellow and Pink join forces and become true fighting heroine trio Triple Lancer?
Taima Miko-sen-ki Triple Lancer (2016)
Taima Miko-sen-ki Triple Lancer
General Information
Type
Japanese Live Action
Created by
Kanzo Matsuura
Years on Air
2016
Movies
1
Airdate: April 08, 2016
Plot
An evil female cadre Zadori, a member of the monster party Onmyo-Majin, plots a terrible scheme to beat her enemy Triple Lancer. It is a dirty scheme that takes advantage of their leader Red Lancer and their life of the party Yellow Lancer's worry to break bonds of them. Three Triple Lancers fall into Zadori's trap. They become suspicious to each other and their combination skills declined. Monster Gerudorz saturates Triple Lancer one by one. Three Triple Lancers are captured and cruelly tortured by Zadori. Can Triple Lancer stop the evil scheme and recover their friendship?
Taima Miko-sen-ki Triple Lancer (2017)
Taima Miko-sen-ki Triple Lancer
General Information
Type
Japanese Live Action
Created by
Sosuke Higashimura
Years on Air
2017
Movies
2
First Movie: Taima Miko-sen-ki Triple Lancer Vol.1
Airdate: February 10, 2017
Misora Kenzaki encounters the battle of Yellow Lancer and Shaspear, a female fighter of Ungrer Empire. When she tries to help Yellow Lancer, she awakes as a Red Lancer and beats Shaspear. Misora decides to join the battle to help Yellow Lancer/Chinatsu Tamazusa and her assistant robot Lavie. However, Ungrar send a strong enemy Beax who use an axe to the ground. Chinatsu and Misora manage to drive away Beax and then invincible fighter Wolfblade appears before them. Misora and Chinatsu desperately fight with Wolfblade but they are beaten. Shaspear sees it and rescue them. So Wolfblade targets Shaspear now. Red and Yellow Lancer rush to the Shaspear's crisis to help her. When Shaspear know their tenderness, her sealed secret power released.
Second Movie: Taima Miko-sen-ki Triple Lancer Vol.2
Airdate: February 24, 2017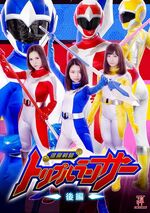 Shaspear, a member of Ungrer Empire, retrieve her memory as a Blue Lancer and Triple Lancer become a full team. However Wolfblade who were beaten by Triple Lancer was a puppet and Real Wolfblade attacks them. Wolfblade increases Beax's power and Beax transports Triple Lancers to the battle space. Yellow Lancer is crucified, and Blue Lancer is beaten by Beax and captured and tortured. Only Red Lancer is rescued by Lavie, so Red Lancer goes to rescue the other two. Red Lancer meets Yellow Lancer and then Beax and Blue Lancer who becomes an opponent again.
Community content is available under
CC-BY-SA
unless otherwise noted.