Super Xuxa contra Baixo Astral
General Information
Type
Brazilian Live Action
Years on Air
1988
Movies
1
English Title: Super Xuxa versus Satan
Spanish Title: Super Xuxa contra el Bajo Astral

Airdate: June 30, 1988
Plot
Xuxa arouses the anger of the villain Baixo Astral when you call children to a campaign to color the world. The villain then kidnaps her dog Xuxo, which have to face frequent harassment of Titica and Morcegão, assistant Baixo Astral, which at all times ask the boss can torutá it. To retrieve the dog, Xuxa faces several traps. Accompanied by Xixa caterpillar, jumps the fence of illusions, crosses the river of delusion, but struggles a bit with complicated words used by Cascadura grandmother,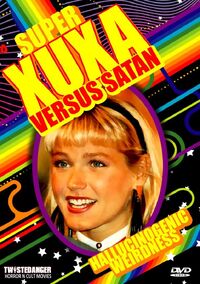 a turtle that lives under the tree of knowledge. Xuxa escapes the bureaucracy of the web mounted Morcegão and comes to urban waste, Kingdom of Baixo Astral. In the final duel between Xuxa and the Baixo Astral, the girl almost slide to the other side, but is saved by Rafa, a boy who knows the Lower Astral and realize it's not on this side that wants to stay. Xuxa, Rafa, Xuxo and Xixa return to the realm of Alto Astral after destroy the villain and convert Titica and Morcegão.
Community content is available under
CC-BY-SA
unless otherwise noted.