Sugar Sugar Rune
General Information
Type
Anime
Created by
Moyoco Anno
Years on Air
2005-2006
Episodes
51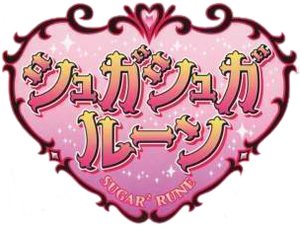 Japanese Title: シュガシュガルーン
Italian Title: Sugar Sugar
French Title: Chocola et Vanilla - Sugar Sugar Rune
Chinese Title: 魔女的考驗
Arabic Title: حروف السكر
Korean Title: 슈가슈가룬
Thai Title: แม่มดสาวหัวใจกุ๊กกิ๊ก
Polish Title: Słodkie, Słodkie Czary
Plot
In the Magical World, the future queen is chosen by selecting two young witches and sending them to the Human World, where they'll compete to capture the hearts of boys. Whoever has collected the most by the end is crowned queen.
This generation's Queen Candidates are best friends and polar opposites Vanilla Mieux and Chocolat Meilleure, the daughters of the current queen and her former competitor (respectively). They're aided by their assigned mentor and guardian, pop idol witch Rockin' Robin, and their two animal familiars, frog Duke and mouse Blanca.
But the girls have more to deal with than just competing for hearts at school. There's something off about the cold, mysterious middle school boy Pierre - and he seems to be targeting Chocolat. Now, both trapped within their own new goals, the two witches must fight their way and retain a friendship which no magic can defeat.
Picture Gallery
Transparent Files / Poses
Screenshots
Transformations
Hearts View
Hearts Collection
Magic and Spells