HENTAI WARNING: This Magical Girl Show contains lots of nude and explicit sex scenes, be careful and be sure that you are 18 years of age or older to watch it.

Japanese Title: スタージュエル
Star Jewel
Star Jewel
General Information
Type
Anime
Created by
Yoshiten
Years on Air
2011
Episodes
1

Airdate: October 14, 2011
Plot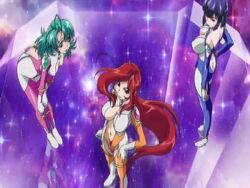 2XXX. United Republic of Hungary. Budapest City. General Rhino's gang is doing terror to find energy crystals. That gems are the energy of innocent people who didn't know about this. Later the team of goddesses, who called theirself as "Drivers" [1] or "Jewels" [2], arrived in Budapest. They tried to stop General and return the Energy Crystals to their owners. Both of these teams are futanaries. They attacks the enemy by penetration in them by penises.
Picture Gallery
Star Jewel Gaiden: Natsumi Oblivion
Star Jewel Gaiden:

Natsumi Oblivion

General Information
Type
Anime
Created by
Zyc
Years on Air
2012
Episodes
1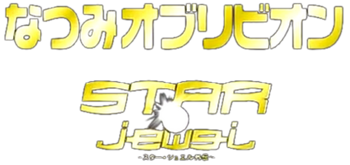 Airdate: March 22, 2012
Alternative and different story of Star Jewel, also in a different comic-anime format. It's based on Natsumi.
Plot
Doctor Genetick sent Natsumi to the outer past where evil rules in Budapest City. Armande Ten, the gang chief, cleared Natsumi's brain. Natsumi think that she is student of Santa Maria Academy. Soon former mechanicist Juni Soremov found that Armande abducts girls who respond to her invitations to various events in the guise of a harmless school president Mayuri Onee. What will do the first Jewel? Can she destroy Armande Ten and return back to the future?
Picture Gallery
Characters
Main
The main characters are goddesses in the guise of the train drivers, air stewards, mechanicists and hostesses. [3]
Protagonists
Jinno, Natsumi (voice - mona)
Kanna-Booth, Reiko (voice - Narumi, Erika)
Kamisaka, Mei (voice - Kasuga, An)
Antagonists
"Rhino" Zircon, Larry (Larra, General Zircon, General Rhino, General Terror) (voice - miru)
Ten, Armande (Onee, Mayuri) [4] (voice - miru)
Doctor Genetick (voice - mA - PAn) [4]
Supporting
The supporting characters are high officials (e.g. Mayors, Principals, etc.), controllers, military employees, etc, and goddesses in guise of them, who help the main characters. [3]
Control (voice - Remizof, Xander)
Soremov, Juni (Diamond, Demante Dambo, Demante Dango) [4] (voice - Moko)
Ir-Sen, Kim (voice - unknown)
Copter, Hailey (Heli) (voice - unknown)
Lester (Laszlo, Leslie) and Lisa (falcons) (voice - mA - PAn)
Cayman, Lois (Ruby) [5] (voice - Otada, Marie)
Li Sei (Lapis) and Lana Sei (Sapphire) - [5] (voice - Kono, Kanami and Otada, Marie)
Ten, Tej (Teji) and Ten, Roger (Hoj) (voice - mA - PAn)
Keiji, Deniz (Emerald) (voice - Remizof, Xander)
Reiner, Natsumi (Tachiana Natsume) and Reiner, Mei (Samara Natsume) (voice - Ki, Tomo)
Bartender (voice - Kojirou)
Sources List and References
Community content is available under
CC-BY-SA
unless otherwise noted.