Kaitou Saint Tail
General Information
Type
Anime
Created by
Megumi Tachikawa
Years on Air
1995-1996
Episodes
43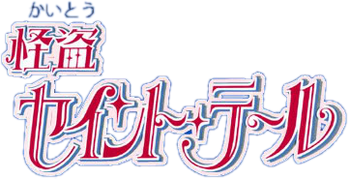 Japanese Title: 怪盗セイント・テール
English Title: Mysterious Thief Saint Tail
Italian Title: Lisa e Seya, un solo cuore per lo stesso segreto
Spanish Title: Las Aventuras de Saint Tail
Portuguese Title: A Ladra Meimi
Chinese Title: 怪盜聖少女
Plot
Meimi Haneoka, age 14, is your popular gal with long flowing orange hair. She studies at the Junior High class at St. Paulia's, a private Catholic school in a Japanese city that seems to have many wealthy citizens. During the daytime she likes to have fun with her classmates, especially her buddy Seira Mimori, who is training to be a nun at their church. But when people start visiting the church sanctuary and start confessing to Seira about things that they have lost to corrupt politicians and business folk, Meimi helps out by transforming into Saint Tail, a mysterious thief dressed as a magician girl with a long orange ponytail.
Saint Tail's mission each week is to steal back the item and return them to their rightful owners. Her special powers include It's Show Time! where she confounds the police and the bad guys with a dazzling display of card throwing, sparkles, or whatever shoots out of her baton. She can also levitate objects, bounce on the rooftops of buildings, fly around with the help of balloons, and other magic tricks that she learns from her dad who is a magician.
In each episode, there's a green-haired boy named Asuka Jr, who is a police detective's son, and a detective in his own right. He has a special arrangement with the mayor to track down Saint Tail. Asuka Jr. usually receives the warning notes, and arranges for security. Meimi likes to poke fun at Asuka Jr. for not catching Saint Tail, but it soon becomes apparent that she has romantic feelings for him, and has the dilemma of whether she should tell him her true identity.
Picture Gallery
Transparent Files
Official Art
Cels
Merchandise