Rytsari Radugi
General Information
Type
Russian Comic
Created by
Seraya Sova
Years on Air
2004-2008
Seasons
3
Russian Title: Рыцари Радуги
English Title: Knights of the Rainbow
Plot
Rainbow Knights It is Russian mahou shoujo comic about adventures of 3 schoolmates, Yulcha, Juli, Zu, and it has a 3 parts.
The first part starts when girls meet an alien crabbit (cat or rabbit), whom they call "Kints". He asked them for help. The girls should get rid of an evil prince's dictatorship. The snake wizard Velimir and his sly elf twins mercenaries, Rian and Imira, try to enslave everybody on the Rainbow Planet in the far away galaxy. Our girls found the magical Prizm, that grant them powers of Fire, Air and Water, and become Rainbow Knights: Zu become a Knight of Red Ray, July become a Knight of Yellow Ray, and Yulcha become a Knight of Blue Ray.
The second part tells how vengeful elf Imira changed the bodies and minds of Julie (the Yellow Knight of the Rainbow) and Paloma (the princess of Avalon) in order to stir up the conspiracy against the princess. While the real princess failed the school concert, Julie tried to remember who she was and from where.
The third part tells how the Knights rescued the Earth from the intergalactic danger - Ancient Evil, that stole a lot of souls of life beings.
Rainbow kinghts is the first Russian mahou shoujo comic. It was published by "Advance Press" company, the magazine "Yula" ("Юла" from 04.2004 to 2008). Authours: Alexandra Kramarenko (Dilandu aka Rapier) - sсript and color, Yulia Kukushina (aka Yulcha) - line art, Anna Kirsanova (Gaallo) - line art.
On the pages there are a lot of hidden easter eggs (from USSR cartoon, American pop culture, Matrix Movie, mahou shoujo manga and ofter geek stuff) because the created for middle and high school.
Picture Gallery
Video Gallery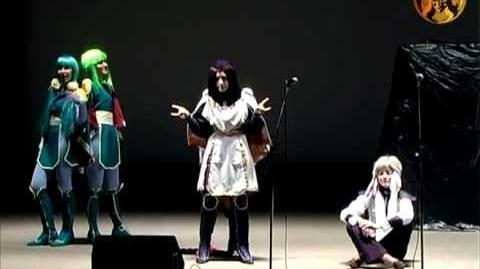 Community content is available under
CC-BY-SA
unless otherwise noted.