Toei Robot Girls
Toei Robot Girls
General Information
Type
Anime
Years on Air
2011
Episodes
1
Japanese Title: 東映ロボットガールズ

Airdate: July 02, 2011
Plot
A pilot film streamed on the anime studio Toei Animation's website. The female leads in the film are dressed as various famous robots in Toei's anime catalog—the girls are personifications of robots in the Gaiking ("Gai-chan"), Magnerobo Ga-Keen ("Gacky"), and Superhuman Combat Team Baratack ("Bara-tan") and the newly added character is from the anime Planet Robot Danguard Ace.
Robot Girls Z
Robot Girls Z
General Information
Type
Anime
Created by
Hiroshi Ikehata

Kazuho Hyodo

Years on Air
2014-2015
Seasons
2
Episodes
9
Others
1 ONA
First Season: Robot Girls Z
Japanese Title: ロボットガールズZ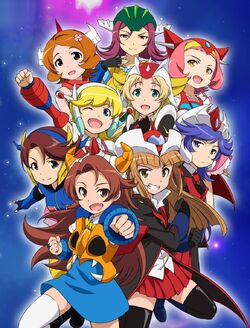 The story revolves around a new team of "Toei robot girls" named "Team Z" that is made up of three girls based on Toei's Mazinger Z franchise: Mazinger Z, Great Mazinger, and UFO Robot Grendizer. Usually they perform in activities around Nerima ward in Tokyo to raise the awareness of the promising future energy source "Photon Power" (koushiryoku). However, there are times when "Mechanical Beast" team of girls emerge from the "Subterranean Empire" and attempt to steal the energy. Thus "Team Z" has to battle them to prevent this, though sometimes they just go and beat up the "bad girls" to relieve stress.
Second Season: Robot Girls Z+ (Plus)
Japanese Title: ロボットガールズZプラス
Robot Girls Z+, the new Robot Girls Z anime, will be six monthly shorts that will debut next spring. The protagonists of Team Z will appear in the new shorts, along with the reformed Team G, Team LOD, Team Gou, and characters that first appeared in the franchise's online game. The new shorts' story will be based two classic "Toei Manga Matsuri" films, Great Mazinger tai Getter Robo (Great Mazinger Vs. Getter Robo) and Great Mazinger tai Getter Robo G - Kuuchuu Dai-Gekitotsu (Great Mazinger Vs. Getter Robo G - The Great Space Encounter).
Robot Girls Neo
Robot Girls Neo
General Information
Type
Anime
Created by
Toei Animation
Years on Air
2018
Episodes
3
Japanese Title: ロボットガールズNEO
Plot
In a ruined future Nerima, a photon energy disaster is said to have devastated the area. No one knows whether that is true or not, and details are hard to come by. All that is left is the photon research facility tower that stands as a monument at the center of the devastation. Z-chan and Gre-chan live together in the Shutter District, which spreads from the base of the tower. Their home is made from salvaged materials that they have named Photon House. The advanced photon energy that flowed through the place is now gone, and the world is now ruled by the Getter Rays that rain down from space. But even now, Z-chan and Gre-chan use the highly efficient photon energy to power their home.
Community content is available under
CC-BY-SA
unless otherwise noted.