Ribbon no Kishi
General Information
Type
Anime
Created by
Osamu Tezuka
Years on Air
1966-1994
Episodes
52
Movies
1
Others
1 Pilot
Japanese Title: リボンの騎士
English Title: Princess Knight
Italian Title: Principessa Zaffiro
French Title: Princesse Saphir
Spanish Title: Choppy y la Princesa
German Title: Choppy und die Prinzessin
Portuguese Title: Princesa e o Cavaleiro
Polish Title: Czopi i Księżniczka
Chinese Title: 寶馬王子
Arabic Title: الأميرة ياقوت
Plot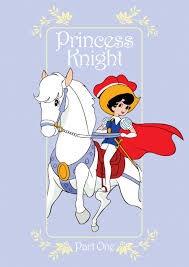 Taking place in a medieval European-like fairy-tale setting, Princess Knight is the story of young Princess Sapphire who must pretend to be a male prince so she can inherit the throne (as women are not eligible to do so). This deception begins as soon as she is born, as her father the King announces his baby is a boy instead of a girl. The reason for this is that the next-in-line to the throne, Duke Duralumon, is an evil man who would repress the people if his son were to become king, and because of this the King will go to any length to prevent him from taking over.
Princess Sapphire has a pint-sized sidekick in the form of Choppy, a young angel-in-training out to earn his wings. When she was born, Choppy accidentally gave Sapphire the blue heart of a rambunctious boy as well as the pink heart of a prim and proper girl, and so God (in a fit of anger) sent him down to Earth to sort out the mess and retrieve Sapphire's extra heart. Choppy is stuck inside a rather weak mortal shell, and cannot go back to Heaven until he's fixed things. Sapphire won't let Choppy remove her blue boy's heart, however. As a result, Choppy later realizes how much Sapphire needs her boy heart to vanquish the evil in her land.
Sapphire and Choppy experience a variety of fairy tale and political adventures, including encounters with ice witches and anti-Royal revolutionaries. Sapphire also dons a Zorro-style mask at night and fights crime as the Phantom Knight, as well as foiling Duke Duralumon's schemes to take over the kingdom and his attempts to prove that Sapphire is really a girl (and thus discredit her as the heir to the throne).
Community content is available under
CC-BY-SA
unless otherwise noted.