Heartcatch Pretty Cure!
Heartcatch Pretty Cure!
General Information
Type
Anime
Created by
Izumi Todo

Futago Kamikita

Years on Air
2010-2011
Episodes
49
Movies
1

Japanese Title: ハートキャッチプリキュア!
English Title: Heartcatch Pretty Cure!
Chinese Title: 光之美少女 甜蜜天使(Offical)/Heartcatch光之美少女!(Literal)
Korean Title: 하트 캐치 프리큐어!
Plot
During the car trip to her new home, the introverted flower lover Hanasaki Tsubomi has a strange and mysterious dream, where the legendary warrior known as Cure Moonlight is defeated at the base of the "Great Tree of Hearts". Because of this, all the beautiful plants are destroyed, and two fairies from the Tree of Hearts take off. It soon turns out to be real, and the fairies appear next to her. They want her to become the legendary warrior Pretty Cure and collect Heart Seeds in order to prevent the Great Tree of Hearts, the source of all human hearts, from dying. But Tsubomi, unsure of herself, thinks she is unable to do so and refuses. However, an enemy attacks her classmate Kurumi Erika and takes away her Heart Flower. To save Erika's heart,
Tsubomi summons the courage she needs and transforms into the Pretty Cure warrior, Cure Blossom.
Joined by her new friend, Erika Kurumi, who becomes Cure Marine, they fight against the Desert Apostles who transform the wilting Heart Flowers inside people into monsters known as Desertarians. By defeating these monsters, they gain Heart Seeds which allow the Heart Tree to become healthier again.
Later Myoudouin Itsuki born as the third legendary warrior, Cure Sunshine, and join to the team. Together reach the Heartcatch Mirage and Tsukikage Yuri is able to transform another time into Cure Moonlight. The four girls fight together to save the world against Dune and the Desert Apostles.
Movie: Heartcatch Pretty Cure!: Hana no Miyako de Fashion Show... Desu ka!?
("Heartcatch Pretty Cure! the Movie: Fashion Show in the Flower Capital... Really?!")
(映画ハートキャッチプリキュア! 花の都でファッションショー···ですか!?)
Airdate: October 30, 2010
The movie starts with scene of Eiffel Tower in the Paris night. We can see two characters sitting in one column of it; Baron Salamander and Loup-Garou. Salamander raises his wand and laughs that this time they will destroy the world. Loup-Garou listens what he says, but suddenly he becomes mad, jumps and takes the jewel out of Salamander's wand. Salamander says that he wants it back, but Loup-Garou disagrees, saying that if he gets it back he gets his powers back to destroy the world, and that is not what Loup-Garou wants. Baron Salamander starts ro draw near Loup-Garou, becoming more darker and darker. Suddenly a group of Snackey jump towards Loup-Garou, making he fall.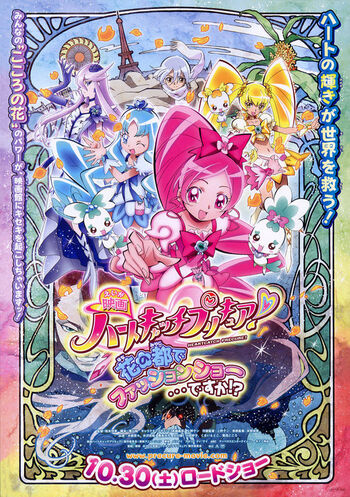 In the next scene, it is day and we see Tsubomi taking a photo of Erika in front of Eiffel Tower. Itsuki starts talking and she admires the scenery with Tsubomi. Erika starts talking about that her dad says that werewolfs have appeared in Paris lately. Tsubomi says that forget it, but Erika says that Tsubomi is really scared of it and that is way she said that. Itsuki says that "look, a werewolf!" Tsubomi quails, and asks rapidly "where?" Itsuki says that nowhere, and takes a photo of Tsubomi's scared face. Tsubomi shouts that she is mean, and the scene ends. In the next scene, we see Erika holding a video camera, using it to immortalize the people of Paris. After a small chat about the city, Tsubomi runs her own way, and disappears to the crowd, letting Erika & Itsuki wonder where she went.
Then we see Loup-Garou running and dodging orange beams, produced by flying Snackey. He jumps from roof to roof, evading the orange shots. Suddenly, when he is holding the jewel from Salamander's wand, a Snackey gets a hit to him, making him stumble, and bash into a wall. Loup-Garou points out that the jewel is what they want, and throws it out of the roof, ending in river. Snackey fly to river, but they don't know that it was really an apple. Next we see Tsubomi and Chypre walking on a road. Suddenly Loup-Garou jumps from the floor, maiking Tsubomi take fright. Loup-Garou apologizes, and after a talk he faints, but Tsubomi stops him and sees how hurted he is. She doesn't let him go, and Loup-Garou shouts that why she doesn't let him go. Tsubomi says that she doesn't, because he is hurted so bad. Suddenly a horde of Snackey appear, and the duo escapes, but one Snackey hits, creating and explosion. Next we see Loup-Garou holding Tsubomi in the air, ending on a floor.
In the next scene, Loup-Garou is walking in city, but Tsubomi is still following him. They end in a shaded place and Tsubomi asks that is Loup-Garou in a trouble. Suddenly Baron Salamander appears. He traps Loup-Garou in a crystal ball and uses his Heart Flower to create a Desertrian. With the help of Chypre, Tsubomi transforms in front of Salamander. Chypre transforms into a cloak, and Cure Blossom starts fighting the Desertrian. Cure Blossom uses Pink Forte Wave but the monster escapes. Chypre tells, that the Desertrian has a wolf on it. Suddenly the Desertrian throws Cure Blossom away. Erika and Itsuki see that, and they transform to Cure Marine an Cure Sunshine. The three Cures fight, and finally they finish it with Shining Fortissimo.
Baron Salamander appears again, and asks the Cures to return the Heart Flower. Chypre and Coffret punch the crystal ball out of Salamander's hands and Cure Blossom touches it with the Heart Flower, and Loup-Garou appears. Salamder commands Loup-Garou to come before midnight, and disappears. Then we see a flashback, where Loup-Garou is still young and in the church wishing for something and he hears a voice, that leads him to a secret room, where Salamander is. He has a friendly, almost fatherly chat with Loup-Garou. He tells Loup-Garou that he is a good child. Loup-Garou asks if Salamander can grant him his biggest wish: to have a father and a mother. Salamander says he can not do that but they'll search for one, for now he will be his dad.
In the next scene, Loup-Garou wakes up and talks with the trio of Pretty Cure. He tries to leave but Erika pokes his cheek and introduces herself followed by Itsuki who shows off a couple of karate moves. Tsubomi joins in and tries to get him to introduce himself. Erika has troubling pronouncing his name. Momoka and Yuri come in to introduce themselves too. After an awakward silence, Momoka mentions that her mom's been looking for a male model. Her mom sees Loup-Garou and says he's perfect and asks where they found him. A while later, Loup-Garou and Tsubomi have a discussion about his name and Tsubomi decides to call him "Olivier" because his original name was hard to pronounce. Next day, Momoka gives everyone an example of their photoshoot and Tsubomi says they're lucky to have a supermodel like Momoka around. Oliver gets annoyed and starts to squabble with her. In order to stop their fighting, Erika tells Tsubomi try modeling, in which she epically fails. Yuri tells Olivier to practice modeling, and Erika comments that Yuri is scary. With every step he takes, Tsubomi yells out advice like a mother and causes Oliver to trip and sending Erika into a fit of laughter. Oliver screams out that he hates Tsubomi and she tears up.
In the next scene, we see Olivier looking at window. Erika takes Oliver's measurements and tells him to call her Erika instead of "you". She talks to him about how she likes more designing fashion than modeling. They fight a little and Erika pinches his cheeks. Tsubomi comes in and tells she's stretching out his face. Itsuki decides to take Oliver out sight seeing and has her own discussion with Oliver. They go into a store where Itsuki founds a costume she really likes. That freaks Oliver out, because he didn't know she could be so girly, as he thought that Itsuki is a hard tomboy. Afterwards, Itsuki talks to Oliver about how she had to hold back her true feelings before because of her role as the heir to the dojo. They go back to the building and see Tsubomi in her new dress. Erika's mom calls Tsubomi over and Oliver comments that Fashion is pretty cool. Erika laughs and says "of course!" in her usual snarky manner. Oliver has trouble smiling and immediately runs into a room where the fairies are drinking.
The full moon starts rising, and Olivier's hair turns cyan, his eyes turn dark topaz, and his nails grow. Tsubomi comes to the room and sees Olivier like that. After a good hug, he calms down and turns back to normal. Disillusioned, Olivier asks Tsubomi what can he do about this and she tells him not to worry. Morning came, and now it is Yuri's turn to talk to Oliver. As they walk, Olivier shows Yuri the Baron's source of power: his jewel. Yuri gets the feeling that Salamander is Olivier's father but he drops silent as a random parent and child walk past him. He thinks back to when Salamander began to train him and then inserted this gem into Oliver's forehead which would give him superhuman capabilities. But that's when Oliver started to change and realize that Salamander was only using him to enlarge that gem. Oliver finally brushes off the speculation that Salamander is his dad. Surprisingly, Yuri talks about her father for a sentence or two before Salamander appears at the end of a tunnel.
Yuri transforms into Cure Moonlight, and starts to fight. While Yuri is trying hard to fight off Salamander, he just plays with her using his wand. Salamander gets tired of playing and transports all three of them to an opera stage. Cure Moonlight asks him is he really a Desert Apostle, and Slalamander starts to tell her his story, but the scene ghanges. Now we see Tsubomi, Erika and Itsuki watching photos. Momoka and her mom are watching news when they see a report on the demon running around. Yuri tells them that Salamander took Olivier away. Now we are back in the scene beetween Salamander and Cure Moonlight. Salamander reveals a giant movie screen and shows a bunch of culturally related photos. Both of them talk about the eternal struggle between Pretty Cures and villains and it leads up to a discussion about Cure Ange. Turns out that Cure Ange was the reason why he was sealed with little power in the church and how he used Olivier to harness his old power. Olivier is stunned, he can not say a word, even after Salamander calls him a monster and how the world rejects both of them. Cure Moonlight interrupts this brainwashing by throwing kicks and punches while reminding Olivier of the events that occurred. She's able to beat him down but he gets up and soon as he sees "that" look in her eye. That same look that Cure Ange gave him centuries ago. Just as they are about to exchange critical blows, Olivier stops them. He says that Salamander is right, he is just a monster and tells Cure Moonlight to give Tsubomi his thanks.
In the next scene, Tsubomi is frantically running around looking for Olivier until Erika catches her. Tsubomi continues to bawl while talking about Oliver and the photos that they took. Erika tells her that "is not looking at the photos enough?" and subsequently tackle glomps her sobbing friend. When she starts to cry more, Erika tells her that she will be fine because Itsuki, Yuri, and herself will always be beside her. Yuri and Itsuki come over to tell Tsubomi that they will all help her in her search for Olivier. In a place nearby, yet far away, Olivier tries to convince Salamander to stop his quest to take over France. Salamander is surprised at how much Oliver has grown but Oliver says he will stop running away and finally battle Salamander on his own. After exchanging several blows and finally knocking Olivier several feet away, Salamander whispers a couple of words before Olivier transforms into his demonic form. Piece by piece, Olivier rips apart the castle where he met the Baron.
Cure Blossom, Cure Marine, Cure Sunshine and Cure Moonlight arrive at the castle. Olivier starts attacking Cure Marine and she attacks him back. After a few exchanges, it's clear who has the advantage so Blossom continually tries to call out to Olivier. Just as Erika is about to deliver her final blow to her opponent, Blossom jumps in front of Olivier to stop the attack. And it finally gets through to Olivier and he immediately stops. Tsubomi wipes away his tears and officially announces that he is changed. Unfortunately, Yuri and Itsuki are unable to stop Salamander and he unleashes huge wave of power as he transforms into a huge dragon.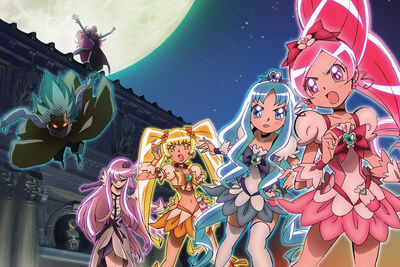 Since the tiny fairies are unable to hold back Salamander's attack, Coupe jumps several continents and holds Salamander back for that one attack.
The Cures transform into their Super Silhouette forms. They use Heartcatch Orchestra, but it is not still enough to defeat Baron Salamander. All people and mascots start to encourage Pretty Cure, and they finally get the power ot defeat Baron Salamander. Leaning over Salamander's unconcious body, Olivier cries but then laughs once he realizes Salamander is alright. The jewel breaks and Olivier suggest that they go on another journey, but this time to meet different people and thanks the Pretty Cure for what they have done. At the end, everyone enjoyed the Pretty Cure's fashion show.
Picture Galery
Transparent Files
Cures and Fairies

Others
Official Art
Desertrians

Others
Screenshots
Movie: Heartcatch Pretty Cure!: Hana no Miyako de Fashion Show... Desu ka!?
Transparent Files

Official Art
Video Gallery
Openings
Endings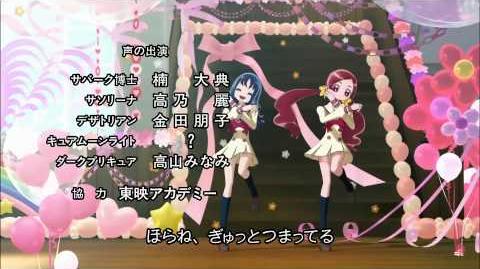 Transformations
Attacks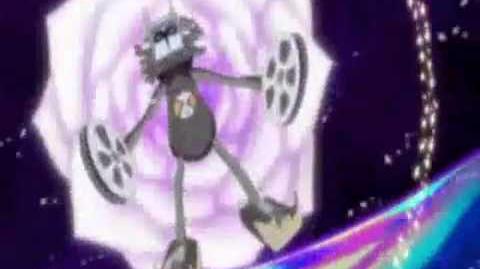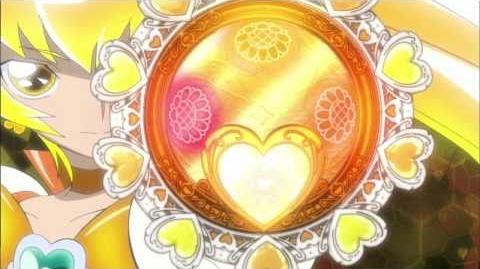 Others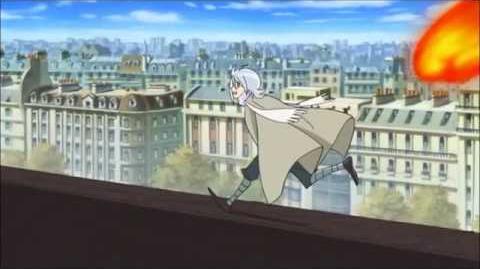 Suite Pretty Cure♪
Suite Pretty Cure
General Information
Type
Anime
Created by
Izumi Todo

Futago Kamikita

Years on Air
2011-2012
Episodes
48
Movies
1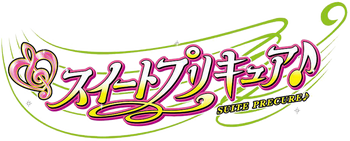 Japanese Title: スイートプリキュア♪
English Title: Suite Pretty Cure♪
Chinese Title: 光之美少女 美樂天使(Official)/Suite光之美少女(Literal)
Korean Title: 스위트 프리큐어♪
Vietnamese Title: Chiến binh Âm nhạc
Plot
In a place called Major Land, a Melody of Happiness is due to be played, spreading happiness throughout the world. However, an evil man named Mephisto steals the Legendary Score, plotting to turn it into a Melody of Sorrow to spread sadness across the land. Aphrodite, the queen of Major Land, scatters the Notes that make up the Legendary Score into the human world and sends a fairy named Hummy to a place called Kanon Town in order to recover them. There, Hummy meets two girls, Hibiki Hojo and Kanade Minamino, who are chosen to become the Suite Pretty Cure in order to recover the missing Notes and protect everyone's happiness.
Siren, a black cat friend of Hummy, is now a villain controled by Mephisto, but later is purified by her feeling to save her dear friend and surprisingly become a Pretty Cure, Cure Beat. Kurokawa Ellen (Cure Beat) join to the team.
Cure Muse is a Mysterious masked Cure that appear to save the other Cures when they have problems. She doesn't talk and don't reveal her identity. Later, when she take off her mask, it is revealed that she is Shirabe Ako, the princess of Major Land and the daughter of Aphrofite and Mephisto. Once revealed her identity, she is able to save her father from the dark and join finally to the team.
Now, the four Cures have to fight to Noise and the people he still controls (Trio the Minor).
Movie: Suite Pretty Cure♪: Torimodose! Kokoro ga Tsunagu Kiseki no Melody!
("Suite Pretty Cure♪ The Movie : Take it back! The Miraculous Melody that Connects Hearts!")
(映画 スイートプリキュア♪ とりもどせ! 心がつなぐ奇跡のメロディ♪)
Airdate: October 29, 2011
The movie starts with Kanade sleeping in her room. Someone knocks the window, but Kanade ignores it. The knocking goes wilder and Kanade goes to the window. She thinks it is Hibiki and opens the curtain. Mephisto smiles and waves her. Kanade takes fright of him and shouts. Her parents woke up and go immediately watch what is happening. Mephisto falls from the ladder, and Kanade's mother calls the police and suddenly Mephisto is surrounded by police cars.
Hibiki is on a walk with the Fairy Tones and Hummy when she sees the police cars. Ellen, Ako and Otokichi all got a call and they went to Kanade's house. Kanade tells the girls what happened, and they all hurry to the police station. Mephisto is in an interrogation with Ako and police asks them questions, while the other girls ask Kanade why Mephisto was there. She answers that Mephisto said that he wanted to see Souta but he mixed the rooms.
Souta comes and Mephisto thanks him about being so nice to her daughter. He also tells Souta that he is Ako's father and that they are going back to Major Land. Souta wonders what place that is, and Ako pushes her father away and tells that they are moving away. Souta gets mad and runs away. They start to listen beautiful music that the orchestra plays. Suddenly a noisy and bad sound starts playing and their ears start to hurt.
Suddenly the music stops playing and it disappears. Everyone starts to wonder what it was. A guitarist tries to play his instrument but it does not produce sound. Otokichi says that Mephisto must warn the Major Land, and Mephisto opens the portal, but it turns to red and forms a strange pattern. Otokichi says that something must have happened to the Major Land and everyone gets worried. Mephisto tells them that he will have a look at the Major Land and that everyone should stay in Kanon when he visits the Major Land. Otokichi says that everyone should go and so they leave.
When they get to the Major Land, the sky is dark and they see how something is bind around the castle. Suddenly the howling sound starts playing and forces them to fall to the ground. When Hummy tries to touch a busker sitting in the bench, her paw is hurted and she realizes that the man is turned into stone, though he is still playing his accordion. A girl walks to them and Ako says that she is her firend, Suzu.
Suzu tells them that all the music had disappeared and Ako aks her why. She says that Aphrodite has taken it. Mephisto and the girls do not believe her, and Suzu continues that Aphrodite has turned everyone into stone. Ako says that her mother would never too something like that. Suzu asks if she does not believe her, and she says that it is fine for her and she runs away.
The girls and Mephisto split to two; Hibiki, Kanade, Ellen and Hummy go to explore the town and Ako and Mephisto go to the castle. Hibiki and the group find Suzu from the theatre, and she tells them what happened; When she was in the woods, Aphrodite announced that she has now slacken all the music. Hummy says that she doesn't believe it and starts crying, and the Crescendo Tone appears and tells them that Suzu does not lie.
Meanwhile, in the castle, Aphrodite tells the Trio de Major to steal the Healing Chest. Next we see Ako and Mephisto walking in park. Ako asks her dad if he believes that Suzu was telling the truth. Mephisto says not to worry, the father is here and nothing bad will happen to her. Ako says that she will be fine without him, and runs towards the castle.
Hibiki and the group is walking in the woods with Suzu. Suzu shouts that all that happened is Ako's mother's fault, and starts crying. Kanade tells Hibiki to give some space to her and they continue walking. Hummy has problems with the heavy Healing Chest and the Fairy Tones say that she will not get any cupcakes if she rests. Hummy gets wind up and runs to them, forgetting the Healing Chest next to Suzu.
Ako and Mephisto get to the castle, and they wonder how it is turned like that. Possessed Aphrodite traps Ako inside a bubble. Meanwhile, the other girls start wonder where Suzu is. Suddenly, Trio de Major appear. Back in the castle, Mephisto figures out that he has to sing Ako's favorite song to release her, but he does not remember it. Back in the woods, Hummy realizes that she forgot the Healing Chest, and goes to find it. Trio de Major then creates a Negatone.
The girls transform but the Negatone traps Cure Melody and Cure Rhythm. Meanwhile, Hummy thinks she has found the Healing Chest but it is really just a wooden chest. Trio de Major comes and say to give it to them. Cure Beat arrives and sees what is happened to Healing Chest. Trio de Major thinks that the chest is the Healing Chest and takes it. In the woods, Melody & Rhythm came up with an idea which works and they defeat the Negatone with Miracle Heart Arpeggio & Fantastic Piacere.
Suzu is in the theater, begging Healing Chest to revive her parents. Crescendo Tone tells her that Pretty Cure is there for it, and there is also something that Suzu can do. Back in the castle, Melody, Rhythm and Beat start fighting with Trio de Major, who transform into monsters. Meanwhile, Mephisto remembered Ako's favorite songs and they start to "sing" it together, and Ako becomes happy. The bubble breaks, and the Cures finish Trio de Major with Music Rondo & Heartful Beat Rock.
The soul of Aphrodite appears and tells Ako and Mephisto that the dark energy, Howling is trapped inside her heart and that by destroying her, Howling will also die. A sword appears, and Mephisto raises it. Melody, Rhythm and Beat arrive and they become scared about what Mephisto is doing, and he swings the sword, but it only breaks the roots around Aphrodite and Mephisto takes her and jumps out from a window.
Howling, being scared of dying, comes out of Aphrodite's body. Everyone are scared about what will happen, and Mephisto creates a slide to them. Suddenly Howling breaks it, causing Mephisto and Aphrodite to fall. Cures try to attack it with Music Rondo Super Quartet, but it does not work and Ako transforms too. Cures try Beat Sonic and Sparkling Shower but they don't work either.
Howling tells them that he is a servant of Noise. Then he creates a hurting drift around the Cures' heads and tells them that they can not stop him. Meanwhile, Suzu with the Healing Chest runs to Hummy and gives it to her. Hummy also gives Suzu's note necklase to her. Crescendo Tone tells Suzu to raise her necklase and guide her feelings to Pretty Cure.
Suzu raises her necklase and it starts to shine, and the beam of light attacks Howling. Meanwhile, Mephisto and Aphrodite wake up in the theater, and they see how the feelings of the people turned into stone fly to help Pretty Cure, as Suzu thinked for it. Hummy also tells everyone to wave their Miracle Lights. Suddenly a burst of light attacks Howling and it also frees the Pretty Cure. The Major Land also turns normal.
Suddenly howling starts sucking the energy and turns into his real form. It attacks the Pretty Cure and takes Cure Rhythm. Cure Melody starts attacking, but Howling blasts her, Cure Beat & Cure Muse away. Cure Melody gets up and tells Howling that she has to protect the music and save the Major Land, but Howling punches her away again. Hummy waves her Miracle Light with the Fairy Tones, and Crescendo Tone tells Melody to fight, and the Healing Chest starts glowing.
The light blinds Howling, and suddenly Cure Rhythm is gone. Howling watches at the sky, and he sees Crescendo Cure Melody holding Cure Rhythm. Howling tries to attacks them, but Crescendo Cure Melody punches him back, and attacks him, along with Cure Rhythm, using Passionato Harmony Crescendo. She turns back to Cure Melody, and with the help of the other Cures, finally defeats Howling with Suite Session Ensemble Crescendo. Later, Ako tells her parents that she wants to stay with the other girls in the Kanon Town, and they accept it, Ako starts smiling and everyone becomes happy.
Picture Gallery
Transparent Files
Cures

Others
Official Art
Negatones

Others
Screenshots