Neo Angelique Abyss
General Information
Type
Anime
Created by
Shin Katagai
Years on Air
2008
Seasons
2
Episodes
26
Japanese Title: ネオアンジェリーク Abyss
First Season: Neo Angelique Abyss
Arcadia is plagued with evil, life-draining demons called Thanatos and a vast lack of Purifiers to exterminate them all. While the young Angelique lives out her days peacefully in her school, attacks from the monstrous Thanatos has been increasing everywhere else. Two Purifiers show up one day, men with the power to exterminate the Thanatos. One of them, Nyx, attempts to convince Angelique to join them in their work, as she has the power to be the only female Purifier. As Angelique hesitates, a Thanatos shows up in their school. Nyx and the other Purifier, Rayne, fight a losing battle. With her classmates falling prey to the Thanatos, and the Purifiers beaten to submission, Angelique's desire to save everyone awakens. She became the only female Purifier in their land of Arcadia, the one known as the "Queen's Egg".
Second Season: Neo Angelique Abyss - Second Age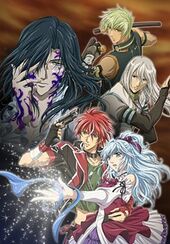 Taking place 6 months after the first season, Thanatos have taken over the Silent Sun. Continuing where the first season left off, the sudden increase of Thanatos with the disappearance of the Aube Hunters has now left Arcadia in ruin. Desperation reigns high as the Religious Organization fights to battle the Thanatos. Six months had already past since Hidamari mansion burned to ashes, the Aube Hunters, once hailed as heroes, is now blamed for the appearance of Thanatos. Nevertheless, hope still exists for the reappearance of the Queen's Egg one day, who will become the savior of Arcadia. Angelique has been unconscious for the past 6 months Unknown to many however, the Aube Hunters have actually been silently waiting for the awakening of Angelique, who has been asleep the entire time and now her journey is about to begin again.
Community content is available under
CC-BY-SA
unless otherwise noted.