Japanese Title: 魔法陣グルグル
English Title: Magical Circle Guru Guru
Italian Title: Guru Guru, il girotondo della magia
Spanish Title: Los Caballeros de Kodai
Russian Title: Волшебный круг Гуру-гуру
Arabic Title: غورو غورو
Chinese Title: 咕嚕咕嚕魔法陣/魔法陣天使
Mahoujin Guru Guru (1994-2000)
Mahoujin Guru Guru
General Information
Type
Anime
Created by
Hiroyuki Etō
Years on Air
1994-2000
Seasons
2
Episodes
83
Movies
1
First Season: Mahoujin Guru Guru (1994-1995)
There is a small village called Jimuna on the continent of Jamu Jamu. This village is home to a girl named Kukuri. She is the last descendent of the Migu Migu Tribe. She is raised by an old witch who teaches her the secret magic of the tribe, but Kukuri is not a good student.
In the same village lives a boy named Nike. He has been raised by very strict parents. They discipline their son to become a brave hero of the village. Nike himself does not want to be a hero at all, but he grows up to become a mighty boy.
One day the king of the village, Kodai, recruits troops to fight against the ruler of the darkness, Giri. Kukuri and Nike are accepted. The two children, the strong but reluctant hero Nike, and the eager but unskilled little witch Kukuri, set out on a wonderful journey full of adventures and friendship.
Movie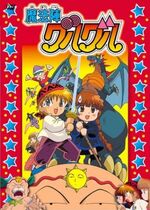 Airdate: April 20, 1996

The hero Nike and magic user Kukuri learn of the "Pickle of Happiness", an item that will grant a wish to the one who eats it. With the help of old friends, they must beat the monsters to the Pickle and convince its guardian dragon to give it to them.
Second Season: Doki Doki Densetsu: Mahoujin Guru Guru (2000)
Japanese Title: ドキドキ伝説 魔法陣グルグル
English Title: Heartbeat Legend: Magical Circle Guru Guru

Join the new legend of Guru Guru, where Nike, the reluctant hero, and Kukuri, the innocent heroine, return to save the world. The magical adventure that unfolds, with its unique monsters and eccentric characters, is sure to draw you into this curious and exciting realm.
To save the world from evil King Giri, Kukuri must locate the monsters in each territory and win them, one by one, over to her side. Meanwhile Nike`s task is to be recognized by the Four Kings of Nature and collect their swords. These swords are known as the "Sword of Wind", the "Sword of Water", the "Sword of Earth" and the "Sword of Fire".
Can Nike and Kukuri truly become hero and heroine? Follow their journey and find out!
Mahoujin Guru Guru (2017)
Mahoujin Guru Guru
General Information
Type
Anime
Created by
Hiroshi Ikehata
Years on Air
2017
Episodes
24
Plot
The seal that for hundreds of years had confined the evil overlord Giri has worn off. A young boy named Nike is chosen (against his will) as the hero. Together with Kukuri, a girl who is the lone survivor of the tribe that had used black magic to seal Giri, they set off to save the world, RPG style.
Community content is available under
CC-BY-SA
unless otherwise noted.