Mahou no Yousei Persia
General Information
Type
Anime
Created by
Takako Aonuma
Years on Air
1984-2003
Episodes
48
Others
5 OVAS
Japanese Title: 魔法の妖精 ペルシャ
English Title: Magical Fairy Persia
Italian Title: Evelyn e la magia di un sogno d'amore
French Title: Vanessa et la Magie des Rêves
Chinese Title: 貝露莎
Plot
11-year old Persia is an energetic young girl who has grown up alongside the animals on the Serengeti plains of Africa wearing only a leopard skin. Twins Riki and Gaku Muroi and their grandfather, Gōken, bring Persia to Japan with them in Minato-machi (lit. Port Town), where she lives with a couple who own a grocery store. During an incident during the return flight to Japan, Persia finds herself in the "Lovely Dream", the land where dreams are born and grow. It is a wintry place, and dreams cannot get out. The Fairy Queen appears before Persia in the form of a butterfly, and explains that the Lovely Dream is in danger, requesting Persia's help. She gives Persia a magical golden headband with a star which reacts to the word "Papurikko". With it, Persia can conjure a magic baton which bridges her world and Lovely Dream, as well as transform into an older self by saying "Perukko Raburin Kurukuru Rinkuru". She is sent with three kappa back into the regular world with the mission of collecting love energy to thaw the frozen Lovely Dream.
OVAS
1- "Adesugata Mahou no Sannin Musume" ("Charming Figures of the Magical Girl Trio")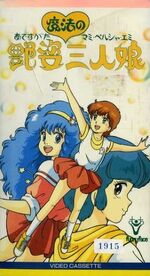 (艶姿魔法の三人娘 [マミ·ペルシャ·エミ])
Airdate: March 28, 1986
A recap-heavy crossover special in which Mami, Persia, and Emi go to a hot spring together.
2- "Majokko Club Yoningumi: A Kuukan kara no Alien X" ("Alien X from A Zone")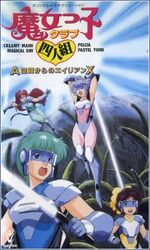 (魔女っ子クラブ4人組 A空間からのエイリアンX)
Airdate: July 28, 1987
Yuu, Persia, Mai and Yumi are together in a science fiction-like adventure. An awful monster assault young and beautiful girls, leaving them transformed into ugly hags: only our four magical girls with their powers can fly to the space and fight for Earth 's sake, so Yuu transforms into Creamy Mami, Mai into Magical Emi, Persia into Fairy and little Yumi draws space suits for all of them.
3- "Kaiten Mokuba" ("Merry-go-Round")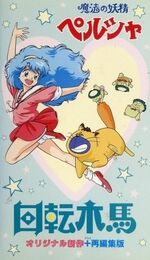 (魔法の妖精ペルシャ 回転木馬)
Airdate: September 25, 1987
A recap of the TV series with six and a half minutes of new footage.
4- "Escape!"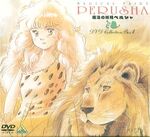 (魔法の妖精ペルシャ ミュージック・クリップ「ESCAPE!」)
Airdate: March 25, 1999
An animated music video included as a bonus feature on the LD Lovely Dream Box Part-1 of Mahou no Yousei Persia.
5- "Hodge Podge Dream World Pilot"
Airdate: May 23, 2003
Unaired pilot special of Mahou no Yousei Persia that was later included in the series DVD Collection Box Volume 2.
Community content is available under
CC-BY-SA
unless otherwise noted.