Mahou Shoujo Lolikko Cutie
General Information
Type:
Show within a Show
Appear On
Tittle
Kannagi
Concept / Plot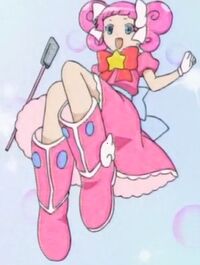 Mahou Shoujo Lolikko Cutie is a fictional anime that only exists inside "Kannagi" real anime. It seems to have an opening song called "Mamatotte Cutie" (revealed in Kannagi's episode 10). Lolikko Cutie is a pink-haired magical girl that fights against the Magical Evil Company, a group of villains that want to cause chaos in the world. She fights with her talking Magical Stone, and two modes are revealed: The Magical Funny Stone and the Magical Fortune Stone. In a supposed episode called "Tender Impostor", she fights against a blue magical girl. When this blue girl is purified, she becomes to Lolikko Cutie's age and joins to her team.
Appearance in Kannagi anime
Episode 7: Akiba

talks about a supposed episode of Lolikko Cutie called "Tender Impostor". The ending of this episode seems to be the trailer of this supposed episode: A president is fainted while Lolikko Cutie pursue a blue magical girl. They are fighting hard. An organization says that the eel fillets are dissapearing. Lolikko Cutie, in her civilian form, is running late to schools when a truck hit her. An ultrama-like heroe say he has two lives. Lolikko Cutie is fighting against an afro hair villain. In class, a classmate apolo

gizes to Lolikko Cutie's civilian form. Lolikko Cutie fights bravely against the blue magical girl flying and launching lasers at the street. The heroe says that he really has three lives. The blue magical girl is purified and becomes a Lolikko Cutie's age girl joining to her team. The trailer ends when both shake hands.
Episode 11 Nagi is watching on TV an episode of Lolikko Cutie: She uses her Magical Funny Stone to hit a pumpkin monster, but he is too hard and she's defeated by him. Lolikko Cutie stand up and change her Magical Funny Stone to the Magical Fortune Stone and now she's able to defeat her opponent.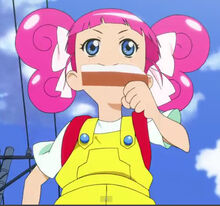 Community content is available under
CC-BY-SA
unless otherwise noted.