Mahoromatic
General Information
Type
Anime
Created by
Bunjūrō Nakayama

Bow Ditama

Years on Air
2001-2009
Seasons
2
Episodes
26
Others
3 OVAS
ECCHI WARNING: This Magical Girl may contain nude scenes and some scenes may refer to sexual themes. The level of it depends on the Show. Be careful about this.
Japanese Title: まほろまてぃっく
Chinese Title: 魔力女管家
Russian Title: Махороматик
First Season: Mahoromatic: Automatic Maiden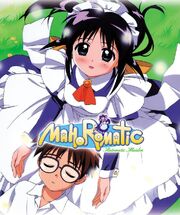 Vesper is a secret agency fighting an army of alien invaders by using super-powerful battle androids. Mahoro is Vesper's most powerful battle android and has won many battles, but she has little operating time left and soon will cease to function. However, if she lays down her arms and conserves her remaining power, the time she has left can be prolonged to just over a year. Mahoro is given an opportunity to live the remaining time she has as a normal human. She chooses to live as a maid for Suguru, a phenomenally messy high school student who lives by himself after his family passed away.
Second Season: Mahoromatic: Motto Utsukushii Mono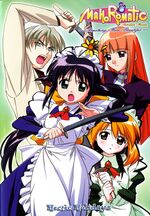 (Something More Beautiful)
As the relationship between Mahoro, Suguru and his classmates develops further, another android girl enters their lives and becomes attached to Mahoro. All the while, the number of days before Mahoro is to shut down decreases steadily.

OVAS
Mahoromatic Natsu no TV Special (Summer Special)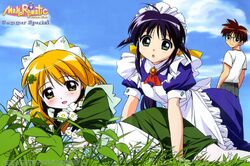 Airdate: August 15, 2003
It's another normal day in the Misato residence when Mahoro finds yet another pornographic magazine in Suguru's room. This prompts her and Minawa to make a pact with Chizuko, Rin, Miyuki and Miss Shikijo to search and confiscate all of the perverted stash in the house. Suguru, Kiyomi and Toshiya must do whatever it takes to protect their treasure from the girls.
Mahoromatic: Tadaima Okaeri (I'm Home)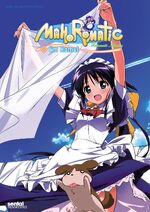 Airdate: October 17, 2009 - October 24, 2009
Suguru Misato lives with two maids, Minawa-chan and Mahoro-san, who are combat robots from the war between the alien life form Saint and the Earth. Both were allowed to live on as maids without weapons. While Suguru, Hamaji, Miyuki-chan and three other classmates prepare for a maid cafe to celebrate the Hiryushi town's 120-years anniversary, Mahoro-san and Minawa-chan are attacked by robots. Mahoro tries to save Minawa and help Suguru and his classmates prepare for the maid café.
Community content is available under
CC-BY-SA
unless otherwise noted.