Kigurumikku V3
General Information
Type
Anime
Created by
Hisashi Saito
Years on Air
2009
Episodes
3
ECCHI WARNING: This Magical Girl may contain nude scenes and some scenes may refer to sexual themes. The level of it depends on the Show. Be careful about this.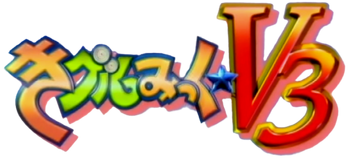 Japanese Title: きグルみっく☆V3
Plot
A hyper girl named Azuki Edomae and her friends Mutsumi Mutsuki and Serika Shihōdō protect the peaceful order of a town by transforming into Kigurumikku-Swan, Kigurumikku-Falcon, and Kigurumikku-Swallow, respectively, via cosplay outfits. "Kigurumi" is a type of cosplay that essentially turns a wearer into a giant plush toy or doll.
Episode List
1- "Episode 1: SOS! Unable to Transform!! Farewell V3?!"
Airdate: April 5, 2009
Okinawaya, where Azuki and Mutsumi went to buy ice cream, was a branch of the Evil secret company, Kaburimogu, whereas Nanami, a sister of Nanami and accepted an order to repair the KIGURUMI creature, Milk, did a complete turnaround as knowing that Milk is a Kacho(a manager) as KIGURUMI society.
2- "Episode 18: The Battle of the Courageous Ones"
Airdate: June 22, 2009
3- "Episode 12: Gather Together!? The Ronin Kigurumix Warrior!"
Airdate: July 15, 2009
Picture Gallery
Video Gallery
Community content is available under
CC-BY-SA
unless otherwise noted.