Kaitou Tenshi Twin Angel
General Information
Type
Anime
Created by
Monako Serasai
Years on Air
2008-2017
Seasons
2
Episodes
24
Others
4 OVAS
OVAS: Kaitou Tenshi Twin Angel
Japanese Title: 快盗天使ツインエンジェル
Plot
Haruka Minazuki and Aoi Kannazuki are freshman high school students and best friends. During the day they help with school activities but at night they thwart enemies and villains as Red Angel and Blue Angel, the Twin Angel team.
The students of St. Cerise Academy are all busy preparing for the 100th school festival, and both Minazuki Haruka and Kannazuki Aoi are putting a lot of effort into their rehearsals for the stage performance Twin Angel Show.
Some days before the festival, a certain book is stolen from within the Academy Chapel. Following that, Haruka and Aoi become aware of the existence of a letter, a proclamation of war, issued by someone calling himself the Baron of the 4th Dimension.
OVA list
1- Kaitou Tenshi Twin Angel (Volume 1)
Airdate: September 18, 2008
Haruka and Aoi strive to protect a pair of statues being exhibited at the school festival. However, when the villain, a magician known as the Baron of the Fourth Dimension attacks, he reveals his main purpose is not the statues, but to crush the bonds of the Twin Angel. He succeeds by managing to hospitalise Aoi and destroy both of their 'Poketen' transformation devices, leaving Haruka devastated.
2- Kaitou Tenshi Twin Angel (Volume 2)
Airdate: October 2, 2008
As Aoi remains hospitalized, Haruka feels guilty about running away during their battle with the Baron. However, after some encouragement from mysterious ally, Misty Knight, and her hardworking classmates, Haruka returns to Aoi's side as she wakes up and they rekindle their courage. Whilst Aoi rests, Haruka goes alone to confront the Baron, managing to transform without her Poketen, and is later aided by Misty Knight and Aoi, working together to defeat the Baron.
Picture Gallery
Video Gallery
Anime
First Season: Kaitou Tenshi Twin Angel: Kyun Kyun Tokimeki Paradise!!
Japanese Title: 快盗天使ツインエンジェル 〜キュンキュン☆ときめきパラダイス!!〜
English Title: Twin Angel: Twinkle Paradise
Plot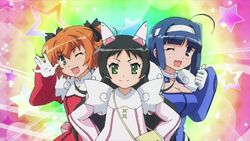 Haruka and Aoi are a pair of friends who become the magical Twin Angels in order to fight off evil as the Red and Blue Angels. Their story revolves heavily around tracking down and protecting Seven Amulets; magical pieces of jewelry capable of generating immense power when assembled from a mysterious man known only as Black Trader and his subordinates. They are eventually joined by Kurumi Hazuki the White Angel.
OVAS: The Angels are in action at the Phoenix Seagaia Resort in Miyazaki!?
Airdate: December 28, 2014
Picture Gallery
Official Profiles
Screenshots
Video Gallery
Opening and Ending
Transformations
Second Season: Twin Angel BREAK
Japanese Title: ツインエンジェルBREAK
Plot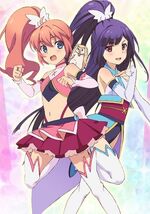 In the story, two third-year middle school girls fight evil as Twin Angels under orders from a hedgehog named Miruku-chan. The girls disagree, but as they work together, little by little they become friendlier with each other.
Other
Community content is available under
CC-BY-SA
unless otherwise noted.