Galema: Anak ni Zuma
General Information
Type
Philippine Live Action
Created by
Jim Fernandez
Years on Air
2013-2014
Episodes
130
English Title: Galema, the Daughter of Zuma
Plot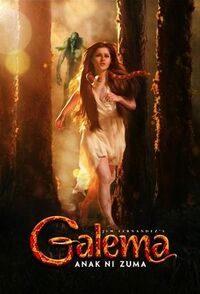 Galema: Anak ni Zuma is the story of a sheltered young woman, Galema, who inherited the curse of her beastly father, Zuma. Born with twin snakes attached to her neck, Galema must struggle with the rejection of her own mother and the public who sees her as nothing more than an abomination.
With the love, understanding and guidance of Isabel and Philip, her adoptive parents, Galema grew up to be more humane than most of us. She learned how to tame the beast within her and eventually earned the love of Morgan. Only to be challenged by her sister Gina's constant jealousy.
But it's only until Zuma resurfaces and declares war on humanity that Galema is finally pushed to her limits. She's forced to choose between her own happiness and sacrificing herself for the people who hated her.
Community content is available under
CC-BY-SA
unless otherwise noted.