G-On Riders
General Information
Type
Anime
Created by
Shinichiro Kimura
Years on Air
2002-2003
Episodes
13
Others
1 OVA

Japanese Title: G-on らいだーす
Chinese Title: G-on少女騎士團
Plot
In the near future, most of the Earth has been conquered by aliens. However, a small region in Japan has successfully repelled them thanks to the development of "G-On" technology by the Grand Rifurekuto Amudo/Grand Reflect Armored (GRA).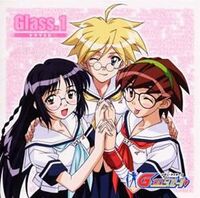 Students with superior strength and ability are chosen to be in the group, which was formed to fight against alien attacks on the earth. This technology involves a band of girls (at first two, then three) of Saint Hoshikawa School who channel energy through special glasses. In this way they're able to destroy the giant mechanized monsters, "Fancy Beasts," sent by the aliens. However, many of the problems that the members face are ones amongst themselves, and the same is true for the invaders. And another student at the school, Ichiro, tries despretly to confess his love to Yuki, one of the Riders.
Community content is available under
CC-BY-SA
unless otherwise noted.