Fushigiboshi no Futago Hime
General Information
Type
Anime
Created by
Mayuki Anan
Years on Air
2005-2007
Seasons
2
Episodes
103
Others
1 OVA
Japanese Title: ふしぎ星の☆ふたご姫
English Title: Twin Princesses of the Wonder Planet
Italian Title: Twin Princess – Principesse Gemelle
Portuguese Title: As Princesas Gémeas do Planeta Maravilha
Chinese Title: 不可思議星球の双胞胎公主
Vietnamese Title: Công chúa Sinh đôi
First Season: Futago Hime
Plot
Seven royal families reign over each of the seven kingdoms, prospering inside the planet for many years. Ohisama no Megumi (the sun's blessing) is beginning to die, and it has been forecasted that it will disappear in one year. If it disappears, all of the planet will be covered in darkness. Twin princesses Fine and Rein receive a secret mission from Princess Grace to investigate the reason for the star's decline. Using the power of the
Prominence, they hope to rescue the
Ohisama no Megumi
. An evil chancellor from the moon kingdom named Roman steals the Prominence for his own purposes. After he unleashes the ultimate enemy, evil begins to spread.
The evil power possesses Prince Bright by Boomo. Under evil power, he attempts to rule the entire Fushigi-boshi. Fine and Rein, along with others, try to investigate and defeat the powers of evil that possessed Bright.
Picture Gallery
Official Profiles
Official Art
Screenshots
Video Gallery
Opening
Endings
Second Season: Futago Hime Gyu!
Plot
Fine and Rein, along with other princesses and princes, leave Fushigi-boshi to attend the Royal Wonder Academy of Education. This prestigious institution is the school where Princes and Princesses from all of the planets come to receive their certification to become Kings and Queens. Upon arrival at the school, Fine and Rein's unprincess-like actions cause them to violate school regulations and lose points. During the orientation of first year students,
the vice-principal presents a legendary bell named Soleil that will only ring when a certain person touches it. If the bell rings, the person is classified to be the "Universal Princess". No princess had ever rung the bell before. But Fine and Rein rang it, and they transformed.
Strange situations have also been occurring in school. A dark entity comes out and forces everyone to become depressed. When someone resists, the dark entity sends monsters that cause extensive damage. One of the first people to become possessed under this entity was Toma, the new president of the student advisory.
OVA: Tour ☆ Around the Mysterious Star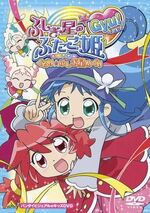 Airdate: August 25, 2006

Rein and Fine receive a care package from their mother and father which contains a device to show past memories and events. The OVA recaps the events of the first season even though chronologically the care package was received after episode 21 of the second season.
Picture Gallery
Official Profiles
Transparent Files
Official Art
Screenshots
Video Gallery
Opening
Endings
Video Gallery
Community content is available under
CC-BY-SA
unless otherwise noted.