Japanese Title: エスパー魔美
Italian Title: Martina e il campanello misterioso
French Title: Malicieuse Kiki
Chinese Title: 超能力魔美
Esper Mami (Anime)
Esper Mami
General Information
Type
Anime
Created by
Fujiko Fujio
Years on Air
1987-1989
Episodes
119
Movies
1
Others
1 Special
ECCHI WARNING: This Magical Girl may contain nude scenes and some scenes may refer to sexual themes. The level of it depends on the Show. Be careful about this.

Plot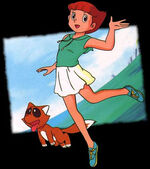 Mami Sakura used to be a normal junior high school student, but she happened to acquire supernatural powers. Using her powers and with the help of her best friend, Mr. Takahata, she solves mysterious occurrences. When she senses someone needs help, she uses the "Teleportation Gun" and transports herself there. She then saves the people in trouble with her psychic powers, such as telekinesis and telepathy.
Movie: Esper Mami: Hoshizora no Dancing Doll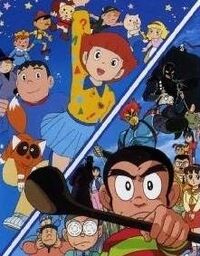 Japanese Title: エスパー魔美 星空のダンシングドール
English Title Mami the ESPer: Dancing Dolls in a Starry Sky
Arabic Title كمان النجوم

Airdate: March 12, 1988

Mami and a puppeteer troupe help each other out as they try to comfort a little girl name Tomoko and deal with a group of thugs who don't want the land being used by the entertainers. In this short film, Mami uses her powers to make a puppet show for deprived children.
Special: Esper Mami: My Angel Mami-chan
Japanese Title: エスパー魔美スペシャル マイエンジェル魔美ちゃん

Airdate: December 27, 1988

An end-of-year special, aired between episodes 84 and 85.
Esper Mami (Live Action)
Esper Mami
General Information
Type
Live Action
Created by
Fujiko Fujio
Years on Air
2002
Episodes
12
Plot
What would it be like to have ESP? Having the ability to know what is happening elsewhere and the power to do something about it must be so convenient! But, for normal eighth-grader Mami Sakura, suddenly having a sixth sense awakened is akin to disaster. Whenever someone needs help, Mami hears bells ringing inside her head. She is an "ESPer," and when trouble calls, whether she is on a date or in the middle of dance practice, her sense of justice forces her to rush to the rescue. Through the adventures of this cute and diligent "ESPer," viewers will realize that helping someone close at hand is the first step to helping the whole world.
Community content is available under
CC-BY-SA
unless otherwise noted.