Detatoko Princess
General Information
Type
Anime
Created by
Hitoshi Okuda
Years on Air
1997-1998
Episodes
3
Japanese Title: でたとこプリンセス
English Title: Suddenly Princess
Plot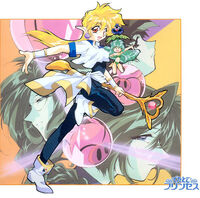 Lapis is the princess of Sorcerland. She's beautiful, powerful and has a sparkling personality; 
it`s too bad that she's not that bright. After a prank gone wrong, Princess Lapis must undergo a long journey back home to the Diamond Palace. With her for this adventure are a young sprite, a directionally challenged immortal, and her math tutor.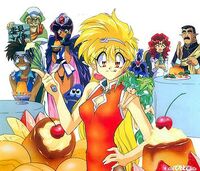 Armed with the powerful magic eraser, and an unmatched love of pudding, Lapis continues forth righting the injustices of the world and defeating magical foes. She'll go to any length to protect the most innocent of creatures even if it means destroying the kingdom to do so. And lets not forget her obsession with pudding!
Detatoko Princess is a laugh-out-loud lampoon of all the fantasy stereotypes you've come to love with a generous heaping scoop of slapstick!
Episode List
1- "If You Love Your Daughter, Send Her Away"
Airdate: December 01, 1997
2- "Showdown in the Pudding Forest"
3- "The Terrifying Fitness Brothers Trio"
Airdate: May 21, 1998
Picture Gallery
Video Gallery
Community content is available under
CC-BY-SA
unless otherwise noted.