Cosmo Agent
General Information
Type
Japanese Live Action
Created by
Takafumi Kondou
Years on Air
2008-2009
Movies
3
Japanese Title: コズモエージェント
First Movie: Cosmo Agent Aruma
Airdate: November 14, 2008
Tokyo seems as peaceful as usual. But an evil power is closing on. Yoma, a space criminal group that has been plotting the conquest of galaxies and destroyed a number of stars, just sets its eyes on the earth! A specter beast Bonequo makes an attack on happy families. There appears Aruma, a detective in charge of the earth belonging to Space Police Organization. As the laser sword of Aruma tries to stop Bonequo, the space's best gunfighter Gorgostar shows up. At the sight of him, Aruma is angry so much that he loses his mind. He turns out to be her enemy who killed her father and sister 15 years ago...!
Second Movie: Cosmo Agent Excel
Airdate: December 26, 2008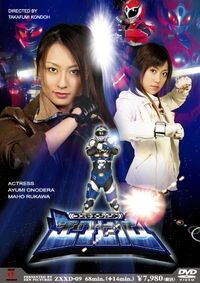 The evil Yoma, the group of space criminals, has not worn away! Two weeks have passed since Armor came back to the Space Police Headquarters to retrain herself. Yoma makes a move once again. They behave outrageously. There appears Excel in Cosmotec suits with the color of deep blue! Excel beats up her enemies one after another. In the meantime, Bisham, one of the four kings of Yoma, casts a cold eye on the battle analyzing it objectively. An evil with EXP abilities disrupts Excel ,taking advantage of the study by Dr. Sawamura, an authority in physics. Then a warrior in a deep red suit appears before Excel who is in danger once again...
Third Movie: Cosmo Agent Windy
Airdate: January 09, 2009
Dai-Yoma, emperor of Yoma, who has been obstructed by two Cosmo Agents Aruma and Excel while trying to conquer the world, is upset. For his real purpose of coming to the earth is to find and eliminate the descendant of Wind Aliens that sealed off his magical powers a thousand years ago. After getting to know the fact, Aruma and Excel find out that a student named Ramu Ohsawa is the very person Yoma is looking for, but Yoma is about to reach her...
Community content is available under
CC-BY-SA
unless otherwise noted.