Corrector Yui
General Information
Type
Anime
Created by
Kia Asamiya
Years on Air
1999-2000
Seasons
2
Episodes
52
Japanese Title: コレクターユイ
Italian Title: Yui ragazza virtuale
Korean Title: 커렉터 유이
Chinese Title: 網路安琪兒(Manga,TW)/網路女戰士(Anime,TW)/Cyber守護星(HK)
Plot
It is the year 2020 and computers have become an integral part of daily life for most people. However, a teenage girl Yui Kasuga is one of the few who cannot use computers at all, despite the fact that her father is a software developer. An evil computer called Grosser wants to take over the ComNet (what the Internet is called in Yui's time) and as the programs that have been developed to stop it (called "Correctors") need her help, she is sucked into the ComNet where she is recruited by a corrector called I.R., who gives her downloadable element suits that allow her to become the ComNet Fairy Corrector Yui who can fight Grosser's computer viruses.
First Season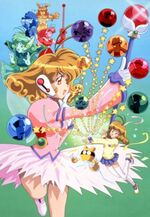 In the first season, the series revolves around the war against Grosser, and reveals the mysteries that surround the Correctors, their seemingly missing creator, and the relationship that he seems to have had with the corrupted computer.
Second Season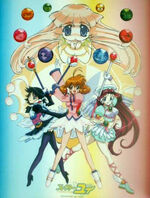 In the second season, Yui and the Correctors must fight with a mysterious virus who menaces the ComNet, and also cope with the mysterious Corrector Ai, a Corrector who tends to work on her own and seems to have her own agenda. The key to the mysteries seems to be a strange little girl who seems lost and may be related with the devastating virus appearances.
Picture Gallery
Transparent Files
Official Art
Merchandise
Screenshots
Transformations