Code-E
General Information
Type
Anime
Created by
Ichirō Sakaki

Yumiko Harao

Years on Air
2007-2008
Seasons
2
Episodes
24
First Season: Code-E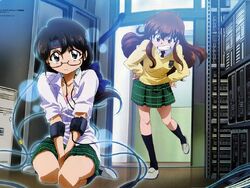 Chinami Ebihara is a high school student with a strange "TYPE-E" ability who emits electromagnetic waves when her emotions run wild. The waves affects electronics such as cell phones, televisions, and computers. Her ability forces her family to move from one location to another. It resulted in her having to transfer from school to school when she was younger. In the year 2017, as Chinami now 18 years of age, the Ebihara family moves yet again. At the new school, a boy named Kotaro Kannagi notices her ability when she once again affects the electronic devices and asks if he can study her. Kotaro's interest in Chinami is met with jealousy and misunderstanding by Kotaro's childhood friend, Kujo Sonomi.
Second Season: Mission-E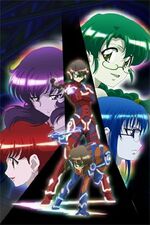 Chinami and her friends have formed an organization called OZ, with the financial backing of the Kujo Group. Their goal is to peacefully integrate people with Type-E abilities into society, and oppose the Foundation, an organization which seeks to capture and control Type-E users for their own mysterious purposes.
Community content is available under
CC-BY-SA
unless otherwise noted.