Chikyuu no Mamorigami

Magma Lady

General Information
Type
Japanese Live Action
Created by
Toru Kikkawa
Years on Air
2010
Movies
2
Japanese Title: 地球の守り神 マグマレディー
English Title: Magma Lady, the Guardian of Earth
First Movie: Chikyuu no Mamorigami Magma Lady - Red Giant & Flying Island
Airdate: October 22, 2010
Meet Magma Lady, the giant heroine in red! She is created by the will of Earth itself facing impending dangers, and when not fighting as a superheroine, she leads a life as Asuka Hibiki, a beautiful 14-year-old girl and member of the Earth's defense forces Earth Defenders. The crawling subterranean humanoids that have been long lurking in the dark underground world finally start invasion, ascending to the surface of Earth. They manipulate a giant monster and destroy Tokyo. To defeat the rampaging monster Asuka Hiniki transforms into Magma Lady, but people mistakenly think she is yet another threat to Earth, and Asuka is attacked. Under the double attack Magma Lady gets hurt and moans in pain, but even the painful voice of a young innocent girl is not enough to convince the suspicious people of her true purpose. However, only Ritsuko Kagami, ace fighter of Earth Defenders, instinctively knows the good intentions of Asuka's heart, and backs up Magma Lady fighting on her own. Can Magma Lady defeat the monster from under the earth?!
Second Movie: Chikyuu no Mamorigami Magma Lady - Crisis! Invasions from the Space
Airdate: November 12, 2010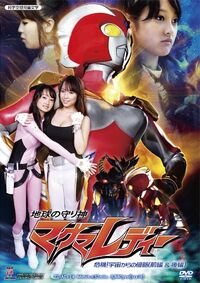 A mysterious island suddenly appears, floating in the sky above Tokyo! Ritsuko and Asuka are called in to investigate this strange object, flying Sky Defender 2, and the two rangers discover that this flying island has a will of its own. A plant monster starts attacking Ritsuko and Asuka, and Ritsuko, who gets brainwashed, attacks Asuka. Asuka becomes Magma Lady, but she cannot fight back Ritsuko under mind control. Asuka has to fight a tough battle with vines entwining and squeezing Magma Lady's body that is not fully developed bone-cracking tight! Poisonous fluid oozes from the vines, wetting the body of Magma Lady, ruthlessly tormenting the 14-year-old girl. Magma Lady's cry that echoes in the flying Island of Noah becomes louder and more painful as the monster's torture becomes harder, and she is forced to experience the most terrible pain again and again.... Will Magma Lady get out of this predicament and save Ritsuko, her sempai she adores?
Community content is available under
CC-BY-SA
unless otherwise noted.