Asahina Mikuru no Bouken
General Information
Type:
Magical Girl Parody
Appear On
Tittle
Haruhi Suzumiya
Type
Anime
Created by
Nagaru Tanigawa
Years on Air
2006-2009
Seasons
2
Episodes
42
Others
38 ONA Series
Concept
This is a Magical Girl Parody that appears in the episode 25 of the anime called "The Melancholy of Haruhi Suzumiya". This episode is called "Asahina Mikuru no Bouken Episode 00" (朝比奈ミクルの冒険 Episode00, "The Adventures of Mikuru Asahina Episode 00"). Mikuru Asahina is an actress that perform a Magical Girl in this episode.
Appearance in The Melancholy of Haruhi Suzumiya
Episode 25: "Asahina Mikuru no Bōken Episode 00"
(朝比奈ミクルの冒険 Episode00) (The Adventures of Mikuru Asahina Episode 00)
Airdate; April 2, 2006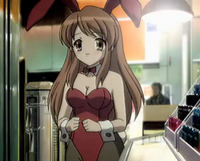 The events of the movie Haruhi makes in The Sigh of Haruhi Suzumiya is quickly gone through as they play at the school's cultural festival, with Kyon making snide remarks about the movie's cinematography and poor writing throughout. "Mikuru" is a girl sent from the future to protect a boy, "Itsuki", who is actually an esper with hidden latent powers but is trying to ignore that and live a normal high school life.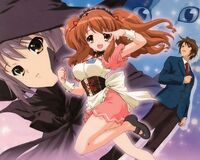 An evil alien magician named "Yuki" also watches over "Itsuki" in the hopes of gaining his powers, fighting randomly scattered battle scenes with "Mikuru" in the process. "Yuki" approaches "Itsuki" and threatens to attack him, when "Mikuru" intervenes and saves him, then decides to run off for no apparent reason. "Yuki" uses magic to control "Mikuru"'s friends, forcing them to attack her. They cause "Mikuru" to nearly drown, but "Itsuki" saves her. Then, both "Yuki" and "Mikuru" transfer into "Itsuki"'s school, enacting a love triangle. "Yuki" then stages a final battle with "Mikuru", but "Itsuki"'s esper powers are unleashed and blast "Yuki" back into space.
Video Gallery
Community content is available under
CC-BY-SA
unless otherwise noted.